pens
Here are some examples of the kinds of pen products we can customize for you and your company…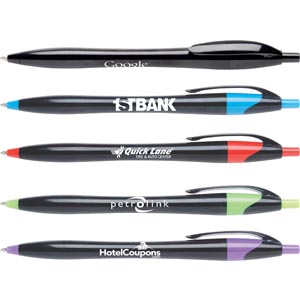 329 – Javalina® Midnight
This click-action ballpoint pen features vibrant colored trim, a slim line hourglass shape for writing comfort, and a guaranteed ultrasmooth writing cartridge.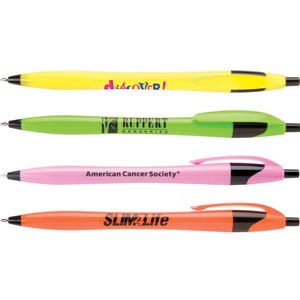 323 – Javalina® Tropical
Offering a large imprint space and an array of hot tropical barrel colors, this ballpoint pen is a great give away at marketing events, trade shows, and many other venues.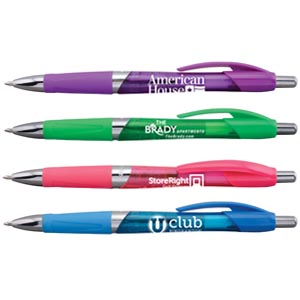 304 – Gassetto Gem Pen
Eye-catching promotional pen with unique details and a budget price, vibrant brights contrast with translucent black and shining chrome trim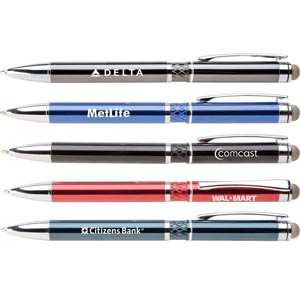 697 – Farella™ Stylus
Named after long time Hub Super Rep Mary Farrell this handy multi-tasker has all the beauty and sparkle of her smile. Mary had an effortless way of helping people and we are sure she would approve the helpful features of this executive gift pen.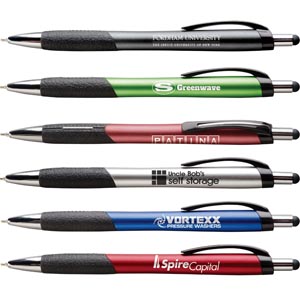 384 – Mateo Stylus
Shimmering metallics contrast with black and chrome accents for a bold statement. Ergonomic contoured shape for writing comfort. Seam stitching detail gives grip the look of leather.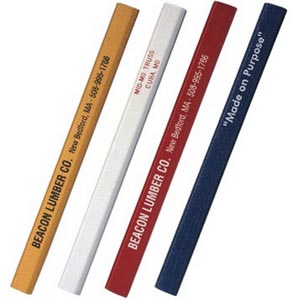 5202 – Carpenter Pencil
A terrific choice as a promotional product for construction, home owner, supply chains, and carpentry-related businesses! Featuring a variety of vibrant barrel colors the pencils can showcase your embossed foil imprint and may be produced with custom logos, on one or both sides.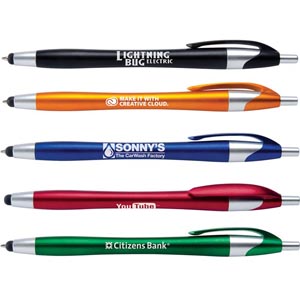 331 – Javalina® Metallic Stylus
Offered in several vibrant metallic colors, the Javalina® Metallic Stylus features brushed silver trim with ergonomic styling and a stylus tip makes this a highly desirable promotional pen at any event.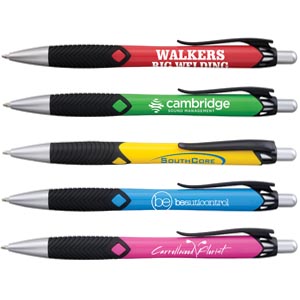 275 – Koruna Pen
Vibrant brights contrast with contemporary black and brushed silver accents. Jumbo ergonomic shape and textured rubber grip for writing comfort. High perceived value at a budget price.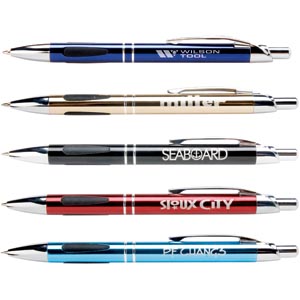 628 – Vienna Pen
Classic push action retractable with silver accents, silver engraved imprint, mechnical pencil features 0.7mm lead and eraser hidden beneath the plunger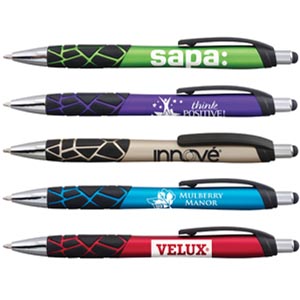 433 – Mosaic Metallic Stylus
Fashion colors and a unique grip make this Hub exclusive stand out. Shimmering brights shine through the black grip in a mosaic pattern. Ergonomic shape and jumbo barrel for writing comfort.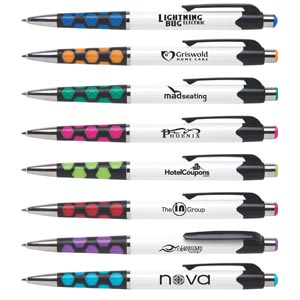 415 – Mardi Gras Hex
It will be a party-like atmosphere at your next event when you market with this Mardi Gras® Hex pen! The double injected rubber grip features hexagons in eight vivid colors, and the glossy black and silver contrasts with a bright white barrel.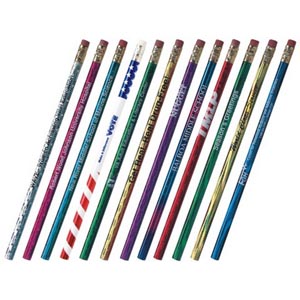 4202 – Foiled Foreman
This classic branding tool is the "write" choice for a fundraiser, political campaign, store promotion, school event and much more. Each quality number 2 pencil has a large imprint area and comes with a gold ferrule and pink eraser
Have an order in mind and ready to take the next step?
Use our form to help put together a project for us to quote on, we can help you through every step of the process.
SUPPLIERS
For more styles you can browse through our supplier's online catalogues, which you can find by clicking here. If you find something you like, write down the SKUs/item numbers to include in the Request A Quote form!